Are you ready to dive into an immersive and enlightening experience this summer? Kingdom Acts Foundation is thrilled to announce our upcoming Summer Youth Camp, running from July 10th to 14th. This unique, week-long adventure is geared to empower our young participants, inspire creativity, and ignite passion!
Kick-start your journey into entrepreneurship! Our entrepreneurial skills program is designed to unleash the innovator in you. Learn from seasoned professionals about turning your ideas into action and carving your path toward future business leadership.
Prepare to ride the wave of technological revolution in our 'Youth, Technology, and the Future' segment. From AI to coding, our interactive workshops will equip you with critical skills for a tech-driven future.
Worried about your career trajectory? Fear not! Our career counselling sessions will help you align your passion and skills, guiding you toward a fulfilling career path.
What's more? You can also contribute to a better society through our focus on Volunteerism, Public Service, and Citizenship Education. Learn the value of service, enhance your leadership skills, and understand your civic responsibilities in an interconnected world.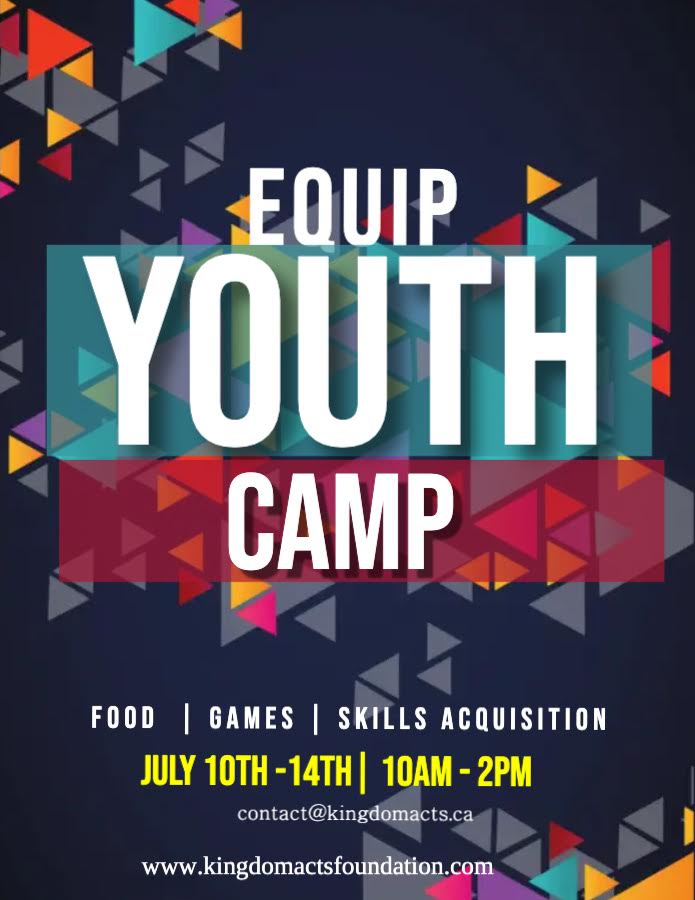 In our commitment to fostering a more inclusive society, we host crucial workshops on Anti-Racism, Diversity, Inclusion, and Equity. Engage in profound discussions, broaden your perspectives, and join the movement toward social justice.
Lastly, what's a summer camp without fun? We've covered you with delicious foods, exhilarating games, and engaging media entertainment for a memorable experience.
Join us daily, from 10:00 am to 2:00 pm at 10704 City Parkway Surrey BC., V3T 4C7. Registration is required, so don't delay! Secure your place for a transformative summer journey!
To register or for more information, contact us at contact@kingdomacts.ca or call us at 604-343-9905.
The future is bright, and it begins at Kingdom Acts Foundation's EQUIP Summer Youth Camp.
We can't wait to see you there!