On behalf of Kingdom Acts Foundation, we sincerely thank the African Canadian Business Chamber (ACBC) for bestowing us with the prestigious "ACBC Social Responsibility Award." This recognition validates the commitment and innovation we put into our social services programming and affirms our mission of creating a sustainable and inclusive society through culturally appropriate social impact programming and relevant strategies.
We cannot help but laud the remarkable contribution of our "Change Agents," whose unwavering dedication and relentless support have been the catalysts in making our programming effective, inclusive, and impactful. A special thanks to Tanniar Leba, whose steadfast support has proven invaluable to our cause. To the African Centre, whose significant role in our sustainability plan is undoubtedly instrumental in making us a more robust and resilient organization.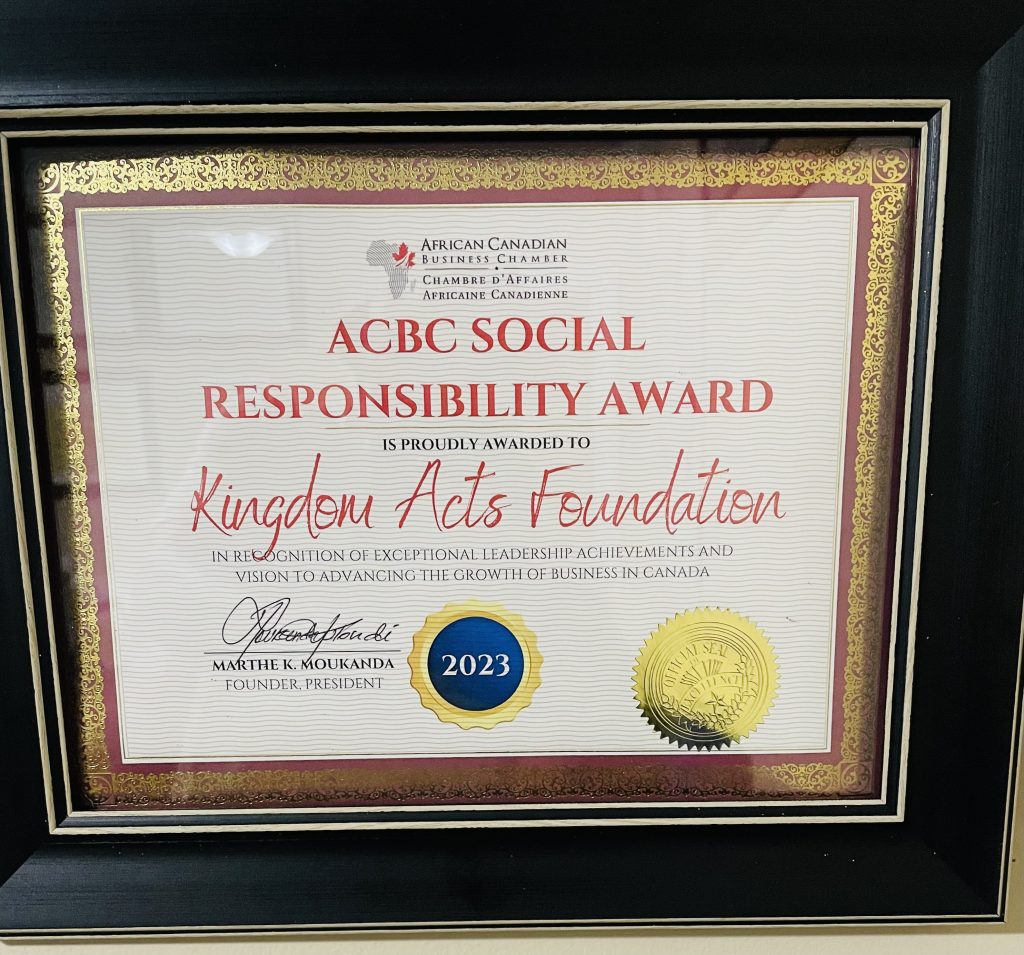 We are also indebted to the Black Business Initiative (BBI) for your capacity-building initiatives and the Foundation for Black Communities (FFBC) for standing with us, supporting, and believing in our vision and mandate. Your support has added substance and texture to our journey, ensuring we consistently work towards creating a world where every member of our community feels seen, heard, and valued.
A heartfelt appreciation goes to the Vancouver Foundation for your immense support and sponsorship of our various social impact programs. Your ongoing commitment to our cause has allowed us to make meaningful changes within our community. We are profoundly grateful to United Way BC, Lower Mainland, for supporting KAF Food Bank, ensuring that no one in our community goes hungry.
The empowerment of our Food Bank through Food Mesh, Second Harvest, Community Food Centre Canada, and Richmond Food Bank cannot be overstated. You have played a significant role in enabling us to serve over 12350 persons each month, a feat we could not have achieved without your partnership.
We reserve our final but equally important gratitude for our incredible staff, volunteers, partners, and mentors. Your consistent and selfless contributions are the lifeblood of our operations, enabling Kingdom Acts Foundation to deliver culturally appropriate social impact programming tailored to serve the marginalized BIPOC communities in Canada. Your spirit of service and dedication have truly made a world of difference.
This award reflects all our collective efforts, and we are proud to share this honour with everyone who has been a part of our journey. Together, we will continue championing social responsibility and inclusivity and inspire change within our community.
Thank you, once again, to each one of you. Your faith in our work inspires us to strive for more and serve better. We are because you are.